Derbyshire based civil engineering contractor Roger Bullivant (RB) has made significant CAPEX investments to meet environmental initiatives as part of the business's strategic growth plans.
RB is a UK subsidiary of group company Soletanche Bachy. As part of the groups environmental strategy to reduce its carbon footprint by 40% by 2030, RB has implemented key initiatives to drive environmental improvements within the business. Over the last 18 months, projects such as additional cement silos, electric forklift trucks, electric fleet vehicles, photovoltaic (PV) panels and REGO certified green tariffs have been implemented.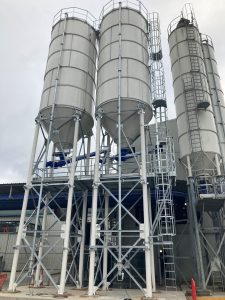 The additional cement silos installed at its Swadlincote headquarters has tripled the storage capacity and reduced supply chain risk.  More importantly it has facilitated the move to low carbon concrete. The company has reduced cement content by 50% though the use of Ground Granulated Blast Furnace Slag (GGBS) and reduced embodied carbon by four thousand tonnes per year. The latest innovations qualify the company as being recognised as a producer of CEMIII A products. RB are continuing to develop even lower carbon concrete to maximise environmental impact and enhance performance and strength.
In just under twenty-four months of operation, the PV panels installed at HQ produced 152,589kWh. To put this into context, RB's annual renewable energy generation is sufficient to power twenty-eight homes for a year. A third phase of PV panels will be completed by January 2023.
Managing Director Cliff Wren said "We support the governments' ambition to transition the UK to a net zero carbon by 2050 and tackling climate change and creating sustainable solutions remains a strategic priority.

With a considered and scientific approach, our low carbon concrete moves us a step closer to net-zero. Our in-house research, design, plant, and manufacturing teams are continuously looking at cutting edge technologies that allow us to innovate and inspire the industry.

The significant investments we have made over the last eighteen months highlights our commitment to raise environmental standards within the sector as we drive down on our carbon footprint".
Roger Bullivant Limited are the one of the UK's leading ground engineering foundation companies, employing over 500 staff specialising in the design and manufacture of precast foundation solutions. The company operates across seven regional offices in England, Scotland and Wales.

For all enquires please visit roger-bullivant.co.uk or call 0845 838 1801 to speak to our local RB office. You can also follow Roger Bullivant on Twitter @RogerBullivant and follow us on Instagram @RogerBullivantLimited, and on LinkedIn @RogerBullivant.