Mini bottom driven piles are one of the most cost-effective and environmentally friendly piling solutions, requiring much less concrete/cement than other mini piling solutions. A displacement technique, producing zero spoil makes it the ideal mini piling solution in contaminated ground.
Mini bottom driven piles are typically used within restricted areas for poor ground conditions, where deep foundations are impracticable.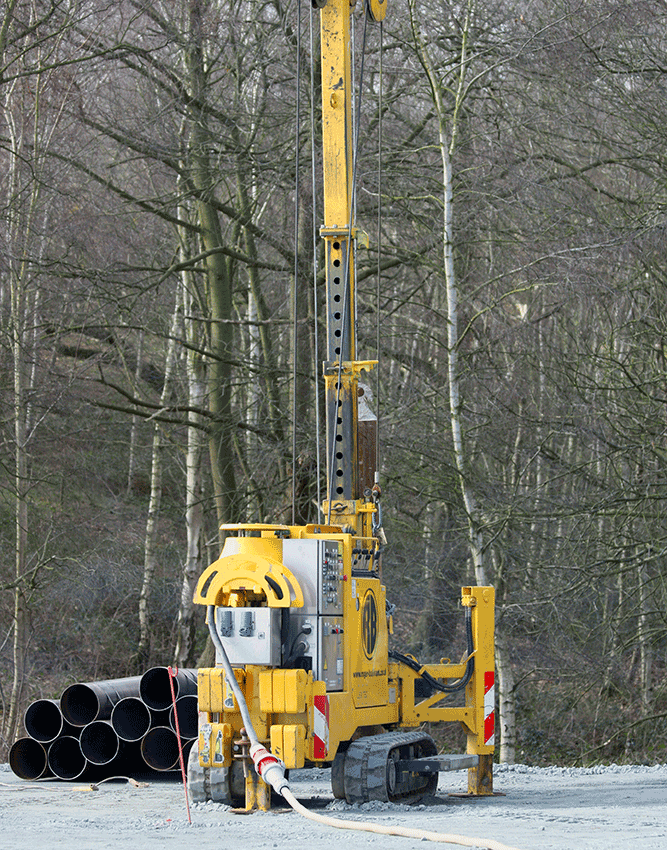 A closed-ended thin-walled steel tube is driven in lengths of between 2m and 6m using an internal drop hammer on to a dry concrete plug. The tubes are joined by a full but non-structural fillet weld as the installation proceeds until the pile is driven to a predetermined set or design length criteria. Once the required depth is reached the tube is filled with high slump concrete or grout and a single bar or cage is inserted.
WHY USE Bottom Driven Minipiles?
Electrically powered rigs, ideal for indoor construction
Low CO2 emissions
Quiet installation
Minimal site preparation required
Small lightweight equipment
Zero spoil
Environmentally friendly
Suitable to most ground conditions
EXAMPLE BOTTOM DRIVEN
MINIPILing PROJECTS
ROGER BULLIVANT
QUALITY CONTROL
We successfully deliver projects to the highest standard, safely, on time, within budget, and with care for the environment and communities. Clients choose RB time and time again thanks to our proven track record.
All products are manufactured to BSEN, ISO, and CE accreditation. We are committed to ensuring we continuously deliver high quality, robust service, and product to our clients. At RB we continuously review and access where we can further improve.
We are proud to be recognised and awarded the RoSPA gold award for the sixth year running for the exceptionally high standards towards the health and safety of our employees.