Grundomat piles are a type of bottom driven steel tubular pile often used for in the domestic market for property extensions and under­pinning. The word Grundomat refers to the tool used to drive the pile – no piling rig is required. This allows piles to be installed in confined working areas and sites with heavily restricted access.
Grundomat piles can be used in the residential and infrastructure sector. They are best suited to lightweight structures although they are often installed in groups to support greater pile cap loads. Using lightweight machinery generates minimal vibration making this technique ideal for environmentally sensitive areas.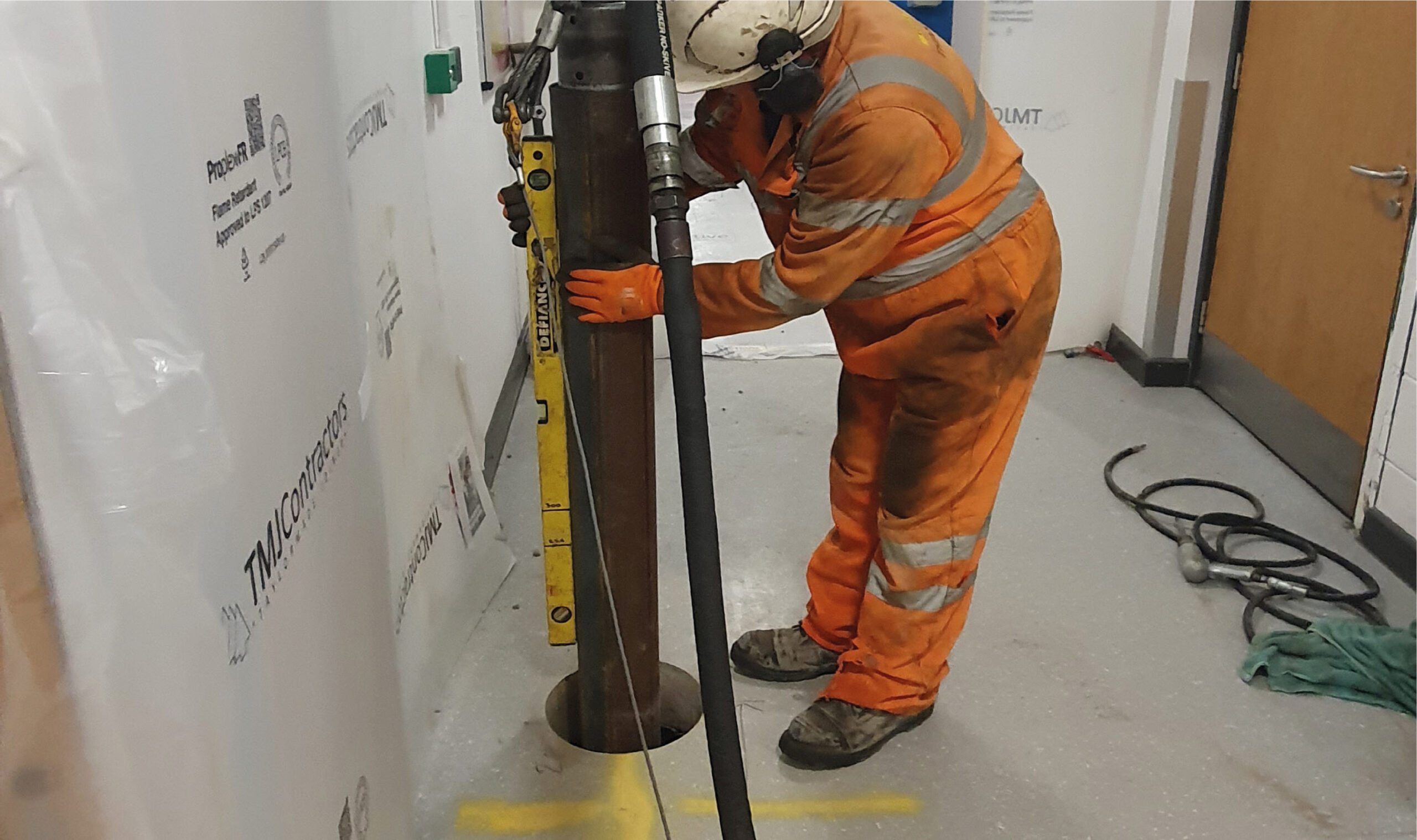 A starter casing, a closed ended thin wall steel tube, is filled with a limestone or dry mix plug. The Grundomat is then placed inside the starter casing and connected to an air compressor through an in-line lubricator.
The Grundomat pneumatically drives the starter casing until the top of the casing is just above ground level. Driving is then paused and a follower, an additional open-ended casing, is welded onto the starter casing.
The driving process is recommenced, and additional casings are added as necessary. The piling process is completed once a pre-determined length or set rate of penetration is achieved. The Grundomat is withdrawn from the pile and the pile is filled with either grout or concrete.
Minimal site preparation
Minimum vibration
Small lightweight equipment
Limited headroom & restricted access
Quick installation
Zero spoil
ROGER BULLIVANT
QUALITY CONTROL
We successfully deliver projects to the highest standard, safely, on time, within budget, and with care for the environment and communities. Clients choose RB time and time again thanks to our proven track record.
All products are manufactured to BSEN, ISO, and CE accreditation. We are committed to ensuring we continuously deliver high quality, robust service, and product to our clients. At RB we continuously review and access where we can further improve.
We are proud to be recognised and awarded the RoSPA gold award for the sixth year running for the exceptionally high standards towards the health and safety of our employees.