Roger Bullivant Limited (RB) delivered the foundations for the new statue of suffragist leader Dame Millicent Fawcett in London's Parliament Square.
In late 2017, RB was commissioned to complete the foundations for the new statue. The company spent four days in January installing 9no 100mm diameter bottom driven steel piles to a depth of 4m to reach the River Terrace Gravels.
RB's South East mini piling manager Oliver Dawson said: "We chose that particular pile to limit the disruption in the busy area we were in. Parliament square is a hive of tourist activity and we didn't want any site traffic or to use a lot of equipment.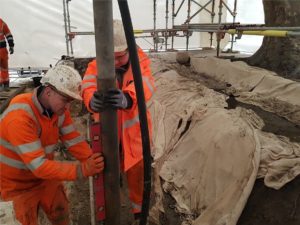 "By using more smaller piles, rather than fewer larger ones, it enabled us to limit the amount of equipment we had on site, and ultimately limit the disruption to the square.
"We were also piling very close to trees in the square and ensured that any exposed tree roots were protected."
This involved covering the exposed roots with a dampened hessian fabric to ensure they weren't damaged throughout the work.
"We had a non-working supervisor working on the site, to not only make sure the tree roots were protected with the damp hessian, but to manage the interface between the worksite and the general public," adds Dawson.
Back in 2015, Roger Bullivant completed the foundations for the Mahatma Gandhi statue, situated adjacent to the new Millicent Fawcett statue. For the Gandhi statue, the firm installed 16 bottom driven steel piles to depths between 4m to 6m metres to support the statue and the plinth it stands on.
Marking 100 years since some women won the right to vote, The Mayor of London commissioned Turner Prize-winning artist Gillian Wearing to create the new Millicent Fawcett statue. It is funded through the Government's £5m Centenary Fund and is the first-ever monument of a woman, and the first created by a woman, to stand within the square.