Attendance at a Breakfast Club led to Roger Bullivant Limited (RB) winning a foundation contract on a flagship, urban regeneration, new village project in London.
Liam Duffy, Operations Director at Developer L&Q attended a breakfast club seminar and met RB Senior Design/Estimating Engineer Nicola Carr. This meeting led to the company winning a major foundation project at the new development.
Said Liam: "I attended the RB Breakfast Club seminar provided by Roger Bullivant and established they delivered a piling project in close proximity to our first development plot on stage two at Barking.
"I subsequently met with their team who provided initial technical and commercial advice; this was further refined through detailed design development.
"RB commenced piling installation nine months later and safely delivered to both time and budget; in fact, in advance of our agreed construction programme."
Two RB Quiet Hammer rigs installed over 1,200 driven precast piles for the first phase of the development on the site, comprising mansion blocks, rows of townhouses and a podium housing block. The QT hammer deadens the noise and vibration normally associated with driven piling.
RB also employed its largest Continuous Flight Auger (CFA) rig to deliver 750mm diameter piles for the on-site tower crane bases.
RB Managing Director Cliff Wren said: "Our breakfast club seminar programme goes from strength to strength and winning this project demonstrates how networking at our events generates valuable connections."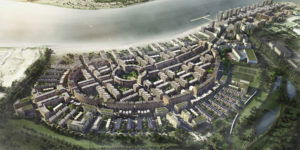 When complete, the former Barking Power Station site will comprise 10,800 new homes, seven new schools, community facilities and a new railway station.